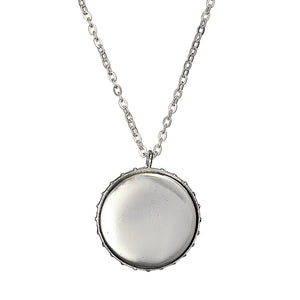 Available in 925 Solid Sterling Silver and Rhodium Plated finishes.
Comes with a 925 Sterling Silver 46cm chain and lobster clasp.
Diameter 20mm, Depth 6mm, Weight: 9.59g.
An Irish frame drum, with a goatskin on one side. The other side is open for the player's hand to be placed against the inside of the drum head to control the pitch and timbre. Although various drums (played with either hands or sticks) have been used in Ireland since ancient times, the bodhrán itself did not gain wide recognition as a legitimate musical instrument until the 1960s 
Please note that no goats were killed in the making of this bodhrán, just damage to my nails!
One of the foremost bodhrán makers is Brendan White.
If you are ordering an engraving, please specify text/image at checkout.