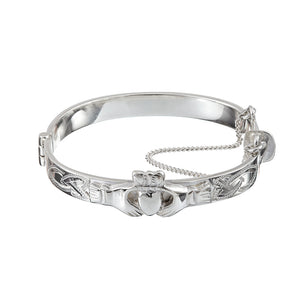 Available in 925 Solid Sterling Silver, hand cut, hand polished.
Originally designed as a traditional Irish ring since the 17th century which represents love, loyalty, and friendship. The design has been adopted into other forms of Irish Jewellery. 
The Claddagh Ring is believed to have originated in the fishing village situated near the "shore" or "Claddagh" of Galway Bay. 
The design shows two hands holding a heart which wears a crown. This motif is explained in the phrase: "Let Love and Friendship reign".