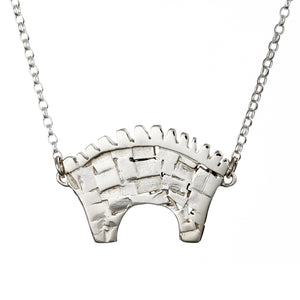 925 Sterling Silver Clochán Bridge of Tears Pendant with 46cm chain and lobster clasp
Droichead na nDeor, the bridge of tears, Cloughaneely, Co. Donegal. It was at this bridge that many Donegal emigrants said goodbye to their families, particularly around the years of the Irish Famine in 1847. This piece will resonate with many of the Irish daispora, i.e., all those known to have Irish ancestors, over 100 million people world-wide, which is more than fifteen times the current Irish population of about 6.6 million. 
This pendant serves as a symbol of the strength of family.