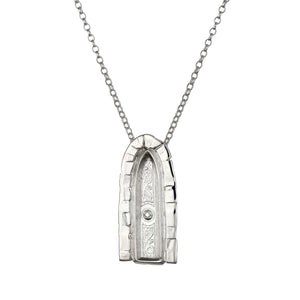 925 Sterling Silver Castle Door Pendant with 46cm chain and lobster clasp
The Irish countryside has a vast number of castles that are filled with history and character. Irish Castles include some of the oldest and most famous castles in the World. 
Medieval castle doors and reception halls were full of ingenious defensive features. The door was always made to open inwards so that it could be secured with a wooden beam and protect the occupants.
The Castle Door pendant is a symbol of security and protection from everyday trials and tribulations.