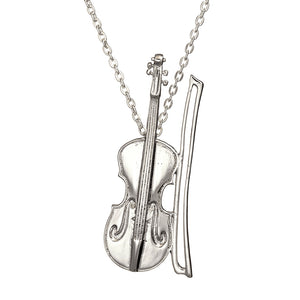 Available in 925 Solid Sterling Silver.
Comes with a 925 Sterling Silver 46cm chain and lobster clasp.
Length 45mm, Width 14mm, Depth 2mm, Weight 8.4g.
One of the key instruments in traditional Irish music. Identical to the violin, but played differently in widely-varying regional and individual styles including Donegal, Kerry, Sligo, Clare, Galway, Cork and many more.
The Irish Famine of 1845-1851 caused thousands of Irish natives to immigrate to the United States. At this time, many Irish musicians sought employment in minstrel and vaudeville shows to make decent money as fiddlers.