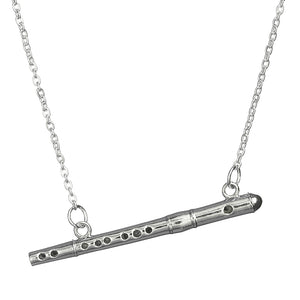 Available in 925 Solid Sterling Silver and Rhodium Plated finishes.
Comes with a 925 Sterling Silver 46cm chain and lobster clasp.
Length 50mm, Diameter 5mm, Weight 8.4g.
In Irish traditional music, the flute is most commonly made from wood, with a playing technique similar to the tin whistle.
They have long been a fixture in Irish music for centuries. Flutes were originally made of bone and these were made by simply carving holes into the bone to produce notes.