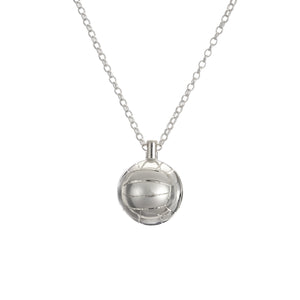 925 Sterling Silver Hand Engraved Gaelic Football Pendant with 46cm chain and lobster clasp.

Gaelic Football is a distinctly Irish field invasion game played with a round football which can be caught, kicked and hand passed. The ball used in Gaelic Football is round, slightly smaller than a soccer ball.
The sport is governed by The Gaelic Athletic Association (GAA) (Cumann Lúthchleas Gael) which was founded on November 1 1884 at a meeting in Thurles, Co. Tipperary, by a group of spirited Irishmen who had the foresight to realise the importance of establishing a national organisation to make athletics more accessible to the masses.