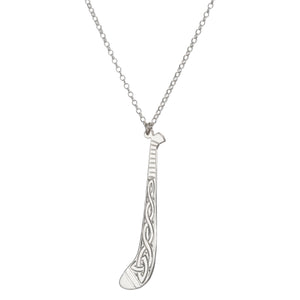 925 Sterling Silver hand engraved Hurl Pendant with 46cm chain and lobster clasp
One of the fastest and oldest field games in the world, hurling is an Irish sport with an ancient history. References to it can be found in the 7th Century legend, Táin Bó Cúailnge where a young hero, Setanta, defends himself against a huge hound by hitting a sliotar (hurling ball) into its throat with his camán (hurley stick). 
The sport is governed by The Gaelic Athletic Association (GAA) (Cumann Lúthchleas Gael) which was founded on November 1st 1884 at a meeting in Thurles, Co. Tipperary, by a group of spirited Irishmen who had the foresight to realise the importance of establishing a national organisation to make athletics more accessible to the masses.